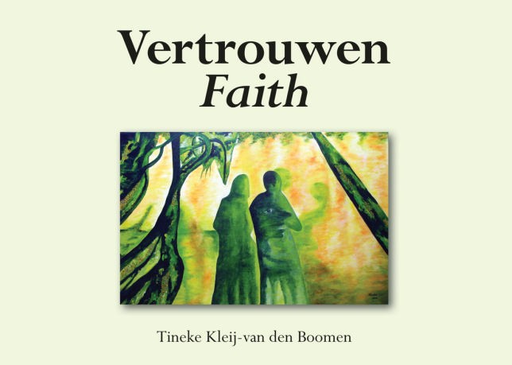 "It is vulnerability which gives her value to faith"
Ferrucci
"Vertrouwen - Faith"
"Very often I think about it how miraculous and splendid life is if you decide to follow your feelings. Not with the mind. Not thinking. Just following your feelings in the things that happen. Doing the things you want to do.
It's 2010. I'm sweating and puffing because of my jogging. Again I sense that grateful feeling inside of me that comes from my heart. Feeling grateful for the extra years that extended my life. And also, even though it may sound strange to you, I'm grateful for the whole process. For that what I was allowed to experience. And for that what is healed.
A few moments later I'm sitting in my studio. The weather is beautiful, the doors are wide open. Beautiful in my opinion, that is, since the sun is shining through the clouds for some moments. I know many people who can't feel and experience these things the way I can. Although a little bird is at least 4 metres away from me, I can hear it sing lustily.
Yesterday I managed to finish one painting. And today I pre-treated some new paintings. Now that they are drying, I have the feeling I can tell you my story. I can tell you my story so you can understand why I am so glad and grateful …
It was over 4 years ago. My life was very different. Although my name was the same, really Tineke had just ordinary cancer. I prepared my self mentally, and –as far as possible- physically for the end of my life. I did what I had to do. Cancer coloured my life. My time stood still, even though the last minutes of my life passed away super-fast. At that moment there was no past and no future anymore. Just the present had remained."
This is the first page in English of the bilingual book where Tineke Kleij-van den Boomen is telling in words, but mainly in pictures, over a radical period in her life. Her window on the world has totally changed afterwards.
In this book you can follow the artistic growth and self-realization in breathtaking paintings, in which Tineke Kleij-van den Boomen touches the essence of what and who she is. (Publisher Elikser - Jitske Kingma)
Title: Vertrouwen - Faith - Author: Tineke Kleij-van den Boomen – Total of pages: 68 - ISBN: 978 90 8954 282 3 - Price: € 16,00– excluding shipment.
The book you can only order by Tineke. She has already started to rewrite her book. Tineke hopes her book to be rewritten in 2018. As soon as it's finished she will be mentioned it in one of her newsletters and / or on this page. Tineke was happy to cooperate with Elikser Publishing.
If you would like to stay informed about Tineke's work and exhibitions subscribe to her newsletter on http://www.tinekekleij.nl/nieuwsbrief.html#.Vgje5svouM8 .
Do you have interest in (one of) Tineke's creations. Comments are highly appreciated. So enter your name etc. in on http://www.tinekekleij.nl/reageer/site/0.html#.VgjdFsvouM8.
Are you interested in buying or renting (one of) Tineke's creations go to http://www.tinekekleij.nl/index/146297492_ONLINE+WINKEL.html#.VgjgzsvouM8 and view on this page which your options are.
Tineke likes to see or hear something from you in return.
Tineke Kleij-van den Boomen, h/o JustBooArt, Kalmoes 14, 5491 KJ Sint Oedenrode
T: +31 (0)413 – 474 317, M: +31 (0)6 - 493 734 86, e-mail: contact, website: www.tinekekleij.nl en www.tinekekleij.com / Ingeschreven in de Kamer van Koophandel te Eindhoven onder nummer 17.24.67.99.